Enter before Wednesday at 3 PM EST to win a $70 Gift Code from CSN Stores!

On
Mondays I like to "Pay Forward" the generosity of bloggers who have helped me start out by featuring a couple of blogs to encourage my friends and followers to look at different blogs! Some are starting out, and some are just cool blogs I like and some are great resources!
This week there are two great resource blogs I want to tell you about:
The first,
Parajunkee's View
, is not only a great blog to read about the genres of Urban Fantasy, PNR, fantasy or Science Fiction, but it is a great source of information about blogging and the host of the Follow Friday. PJV also has great contests and other info for challenges, and news.
The second resource blog is also a great place for reviews, news and contests is
Bites
. With its absolutely stunning design, Bites gives us an idea of how a blog could look. This past weekend there was a great post on blog design.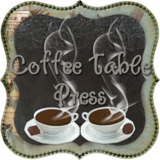 Coffee Table Press
links two of our favorite things, books and coffee! The design makes you think you can actually smell the roasted coffee being ground and brewed! Aimee says:
>
I'm a big fan of reading and writing. I have been writing my own little reviews on shelfari and decided to try my own blog. I love all kinds of books, mystery, paranormal romance, urban fantasy, young adult, erotica, historical romances and just any romance book.
Great contest the 23rd to 25th for a copy of The Body Finder or Twice Bitten.
I was trolling through the Crazy for Books Book Blogger's Hop and Friday Follow when I came across
Read It or See It
which is unique in my blogging experience for discussing the both certain books and their movies. It is a constant question in life, isn't it, whether the book is better than the movie or vice versa? This blog could help! The design right now is clean and spare as they are just starting out in the blogosphere.
So, readers, I encourage you to look at these other blogs, after you spend lots of time on mine!And, Pay It Forward! If you would like to have your blog considered for this feature please email me at steph(at)fangswandsandfairydust(dot)com.
True Blood SPOILERS
TrueBlood was just slightly more focused this week, and I enjoyed a bit more. Bill is playing a game I just don't get. I hope the King of Mississippi gets staked and Lorena too. The King is probably going to propose to the Queen of LA, stake her, then be King of both through ascension. He is a creep!
Eric is up to something. We have set up Eric's reason for whatever he does this season. Do you think he has connected the King to the man who killed his family and the Nazi werewolves? I think Talbot is a bit disenchanted as consort. Franklin is totally nuts and for once Tara is acting smart. The last scene was pretty good.
What did you think? The Viking crown was lovely, no?
Thanks to Savannah at Blogs With Bite for this: