Today, I am thrilled to have Jill Archer whose debut novel DARK LIGHT OF DAY is hitting the shelves on September 25. She is talking about something I find really interesting: The etymology, or word origin, of the character's profession as a Maegester in her post apocalyptic world.
Here's part of the Book Description:
Armageddon is over. The demons won. And yet somehow…the world has continued. Survivors worship patron demons under a draconian system of tributes and rules. These laws keep the demons from warring among themselves, the world from slipping back into chaos.


I share the rest of the description below Jill's Guest Post.
You definitely want to scroll down for the Tourwide Giveaway managed by BEWITCHING BOOK TOURS.
I am going to review the novel in a later post.
Jill, thanks for visiting.
I am a big word origin lover. It helps me understand history and language. There truly is power in a name:
Dark Light of Day
Noon Onyx Book #1
By Jill Archer
Genre:Urban Fantasy
Publisher: Ace
ISBN: 978-0-425-25715-9
Number of pages: 384
Word Count: 123,000
Halja's Demon Peacekeepers:
The Maegesters
Magistrates, or "Keepers of the Peace," have been around since at least 1195 when Richard I of England commissioned several knights to help him keep the peace in certain unruly areas of his realm. These early Justices of the Peace were charged with rounding up the rowdies, upholding the King's law, and maintaining order. Historically, Keepers of the Peace did far more than just mediate disputes and adjudicate. They also acted as the King's local administrators by fixing wages, building roads, bridges and jails, marrying people, punishing poachers, and performing the myriad other duties required for the preservation and welfare of their community.
In my debut novel, Dark Light of Day, the main character, Noon Onyx, is summoned to attend St. Lucifer's Law School. But St. Luck's is no ordinary, ABA-Approved law school. Instead, it's a school of demon law in a fictional country called Halja, where all law students are taught the law, but a select few -- those with waning magic -- are also taught how to become Maegesters, or demon peacekeepers.
Halja's Maegesters have a lot more in common with the real world's historical knight-magistrates than they do modern day Justices of the Peace. Instead of marrying people, assessing traffic fines, or handing out liquor licenses, they get to round up demon rowdies, uphold Lucifer's law, and maintain order among Halja's demons. They also get to act as those demons' consiglieres, judges, and executioners. So, obviously, it's a dangerous job with a higher death rate than most. (Is it any wonder that Noon wants no part of it?)
In fact, thinking of Halja's Maegesters as magical knights wouldn't be too far off. Dark Light of Day takes place in a post-apocalyptic world, but Armageddon, the last battle of the Apocalypse happened much earlier in the story (2,000 years earlier). In the time since, Lucifer's ancient army evolved. Not physically, but culturally. The descendants of Lucifer's warlords became Halja's modern day Maegesters.
How did I choose the name "Maegester" for Halja's peacekeepers? "Mægester" is an Old English term meaning "one having control or authority" that I found under the definition for "master" in the Online Etymology Dictionary. I liked that the word was similar to "magistrate" and "magister," as well as "mage," "magi," and "magic."
Curious about how a Maegester's class at St. Luck's might begin? Here's a brief excerpt from Dark Light of Day:
"A Mederi's oath is 'First do no harm.' With Maegesters, it's the opposite. You must learn how to harm a demon if you're going to be able to control them. Rogare demons, and even some regulare demons, will never respect you, listen to you, or be controlled by you, if you can't harm them.




"The type of cases you will be assigned when you graduate—ahem, if you graduate," Rochester looked straight at me, "will depend on many things. Among them are how strong your magic is, how well you can manipulate it, how well you can use it to control demons, and how strong the demons are that you can control."




Okay . . . all that seemed pretty straightforward, except for the part that I didn't want to do any of it.
I'll talk more about why Noon doesn't want to use her magic or become a Maegester in future posts.
In the meantime, I'm curious...
Writers, how do you find names for the people, places, and things in your stories? When you're worldbuilding, do you often use real world history as an inspirational source?
Readers, are you fascinated by word etymology? Have you had any dealings with a Justice of the Peace? (If so, I hope it was to get married! :-)) Would you want to go to law school if it meant you had to work with demons?
Want to read more about Justices of the Peace (as well as see where I got some of my facts from)? Check out these two sites:

Thank you, Steph, for hosting me here at Fangs, Wands & Fairy Dust today!
Thank
you
Jill. This great guest post was fascinating. I was a Constable for a time, another peacekeeper rooted in antiquity.
And this is a very cool cover. I've never seen any lawyer dress like that for court!
Author Bio:
Raised in Pittsburgh, Pennsylvania, Jill earned a bachelor of science from Penn State University and later moved to Baltimore to attend the University of Baltimore School of Law, where she graduated magna cum laude. She went on to practice law as a "dirt lawyer" for ten years, specializing in real estate law, municipal development, commercial leasing, and anything involving exceedingly lengthy legalese-like contractual monstrosities.
Jill now lives in rural Maryland with her two children and husband, who is a recreational pilot. Weekends are often spent flying around in the family's small Cessna, visiting tiny un-towered airfields and other local points of interest.
website:
www.jillarcher.com
blog:
http://jillarcherauthor.wordpress.com
twitter: @archer_jill
facebook:
https://www.facebook.com/jillarcherauthor
goodreads:
http://www.goodreads.com/book/show/13556956-dark-light-of-day
Now, Here's the rest of the book description:

Noon Onyx grew up on the banks of the river Lethe, daughter of a prominent politician, and a descendant of Lucifer's warlords. Noon has a secret—she was born with waning magic, the dark, destructive, fiery power that is used to control demons and maintain the delicate peace among them. But a woman with waning magic is unheard of and some will consider her an abomination.

Noon is summoned to attend St. Lucifer's, a school of demon law. She must decide whether to declare her powers there…or attempt to continue hiding them, knowing the price for doing so may be death. And once she meets the forbiddingly powerful Ari Carmine—who suspects Noon is harboring magic as deadly as his own—Noon realizes there may be more at stake than just her life.
TO READ AN EXCERPT OF THIS EXCITING DEBUT NOVEL
CLICK HERE
Available:
AMAZON
Powell's
Barnes & Noble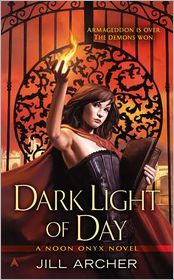 Want to Enter the TOURWIDE Contest, Administered by BEWITCHING BOOK TOURS?
TOUR GIVEAWAY DETAILS
- Two Ways to Win
#1: HERE-
to be drawn randomly from that today's COMMENTS,
Why not answer one of Jill's Questions above.
Prize: one Ace/Roc Science Fiction and Fantasy 2012 Sampler.
Jill chooses the winner.
Sampler giveaway will close by midnight the day AFTER the post.
She'll announce the winner via comment on the post the day after the giveaway closes (so two days after the post).
Winners have 48 hours to send her their street address.
She plans to mail samplers out every week or so during the tour.
These are bound, print samplers with a color cover and the first few pages of new work from the following authors/titles: Benedict Jacka's FATED, Alex Hughes' CLEAN, Jacqueline Carey's DARK CURRENTS, Steve Bein's DAUGHTER OF THE SWORD, Anton Strout's ALCHEMYSTIC, and Jill Archer's DARK LIGHT OF DAY.

US ONLY
BE SURE TO LEAVE YOUR EMAIL!
#2: Tour Wide Giveaways
Prizes!
Three signed copies of Dark Light of Day to the blog tour followers who visit the most stops. US ONLY
$10 eGift Card (either Amazon or Barnes & Noble, winner's choice) to be drawn at random from all blog tour commenters.
$10 eGift Card (either Amazon or Barnes & Noble, winner's choice) to the person who brings the most people to the party. To enter to win this one, tell a friend about the tour (someone who hasn't yet commented). You'll be entered to win when your friend stops by at any spot on the tour and tells us that you told them about the tour.
a Rafflecopter giveaway
Tweet