Atlantic Ocean shore at Atlantic City, New Jersey (Photo credit: Wikipedia)
Many of you know that Caridad Piñeiro lives on the Jersey Shore. Since she loves it, and knows it so well, she sometimes sets a book there.
When I was recently offered a guest post by Caridad, I asked her to write about her recent experiences with Hurricane Sandy. I have lived through a few hurricanes. It is really scary and the losses can be devastating. But, often we see it on the news; there's no personal impact. As a friendly author who is very approachable and even remembers who I am when I see her, I wanted to know her perspective on the storm and the damage, not just to buildings and places, but to people, the storm caused.

What you may not know about this woman is what a big heart she really has. Recently I learned that Caridad Pineiro's newest novel, The Prince's Gamble, is set in New Jersey, on the shore. Caridad Pineiro is donating 100 percent of her share of the book's sales to the New Jersey Relief Fund.

Today, I am so fortunate to have a guest post from Caridad telling us how Sandy affected her, her friends and family and her community. Read on for the words of Caridad, whose actions stack up to the meaning of her name.
I've grown up around the water. When I was a kid, I lived in Levittown and Jones Beach was just a short ride away. Some of the favorite moments were spent on the beach swimming or fishing with my family.
When I moved to New Jersey, I was introduced to a totally different kind of beach life along the Jersey Shore. Long strolls along miles of boardwalk. Frozen custard cones and noisy rides. Beautiful old Victorians, casinos, and so many other unique flavors in the many Shore towns. The beauty of the dunes and ocean.
Those strolls have brought me peace, new friends, and inspiration for so many of my novels. The Jersey Shore is my home and I love it. So it was heartbreaking to see the damage done by Hurricane Sandy. One thing was watching it on television, but it was even worse as I walked the many miles of boardwalk and saw damage in one town after the other.
I've posted some before and after photos on my Facebook Fan Page at
http://www.facebook.com/media/set/?set=a.10151123772310913.431802.178249385912&type=1&l=3d4491eb39
Just to give you an idea, here is just one of those before and after shots of the boardwalk. You may remember some scenes set on this boardwalk from STRONGER THAN SIN, THE LOST, and THE CLAIMED. It's amazing to me that this much was left standing. In the next town over, the entire boardwalk and structures had to be leveled and people's homes and businesses were severely damaged by flooding and the storm surge.
This damage was repeated up and down the Jersey Shore, affecting people at all levels. Destroying homes and businesses that had been around for decades.
Since I've always been someone who believes in helping others and I asked myself, "What can I do to help?"
One thing was find a way to volunteer. A few of us decided to help by digging out our town's Centennial Fountain, but realized it would take a lot more of us and a lot more time so we're organizing and planning on what to do.

But I also knew that there was something else that I could do, especially since my current release, THE PRINCE'S GAMBLE, is set in Atlantic City. For starters, I did a last minute rewrite to the book to add mentions of the storm and add a message of hope about rebuilding the Shore. Then I took it a step farther: I decided I would donate my share of the proceeds from sales of THE PRINCE'S GAMBLE to the Hurricane Sandy New Jersey Relief Fund.
My hope is that the money raised will help to repair not only the broken boardwalks and damaged homes and businesses, but the spirit of the people along the Shore.
Thank you for coming by and for your help in making Jersey strong once more!
THE PRINCE'S GAMBLE
by Caridad Piñeiro
Prince Alexander Ivanov is scrambling to save his reputation and his livelihood. One of the Russian Nights Casino's hostesses has disappeared, and his business is suddenly under investigation by the FBI for associations with the mob and money laundering.
Special Agent Kathleen Martinez has no patience with rich, entitled aristocrats, especially one like Alexander Ivanov whom she believes is involved in the vicious human trafficking ring which she'd tried—and failed—to shut down two years earlier. With a second chance to bring him to justice, she goes undercover in the casino, but instead of facing the villain she expected, she finds herself battling a sizzling attraction to the man.
Now, forced to work together to trace the source of the illegal activities, the danger—and the passion between them—grows out of control, and they slowly begin to realize the biggest danger isn't to the casino, it's to their lives…and to their hearts. Information:
A PRINCE'S GAMBLE
Caridad Piñeiro
Romantic Suspense
219 pages
Release Date: November 2012
ISBN: 978-1-62266-800-7
Dead Sexy
CLICK FOR EXCERPT

To Buy at Barnes and Noble: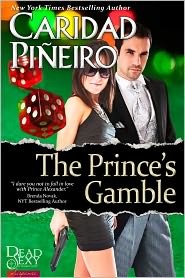 GIVEAWAY!

Caridad is giving away a copy of THE FIFTH KINGDOM out from Carina Press in July of 2011.
Description
Dr. Deanna Vasquez hasn't spoken to her mother in years, not since the renowned archaeologist abandoned her family in her quest to find the lost tomb of Montezuma. When CIA agent Bill Santana shows up in her classroom with the news that her mother has been abducted by terrorists, Deanna has to help in any way she can.
Bill needs Deanna's expertise to determine the location of her mother's latest find, before her kidnappers do. He fears whatever mysteries the tomb holds could be deadly in the wrong hands. In an effort to make contact with the terrorist cell, Bill accompanies Deanna to Mexico posing as her fiancé—a ruse made doubly dangerous because of the very real heat between them...
Carina Press
To Enter please fill out the Rafflecopter Form

Giveaway Terms:
Entry Constitutes agreement to and verification of age.
US addresses only
Must be a minimum of 18 years of age.
One Entry per person and/or per email per entry type.
Fulfillment of prize distribution by Ms. Piñeiro or her agent. Neither the blog, nor the blogger bear responsibility for prize delivery.
Once a winner is chosen and an email set to notify the winner the winner has 24 hours to reply with the requested information.
Incomplete or incorrect information for an entry will result in voiding that entry immediately. Email bouncing back will immediately void the win and that entry.
To count as an email follow you must confirm the subscription with Mail Chimp.
I reserve the right to change this giveaway and all terms as I deem necessary.
This is separate from any other giveaway I have.
a Rafflecopter giveaway
Tweet